Send the scent of happy!
Regular price
Sale price
$30.00
Unit price
per
Sale
Sold out
Does your computer not have a scent feature? Do you want to try before you buy? Here's your opportunity to purchase sample sets of your favorite fragrance collection.
Each sample set includes five items from your favorite fragrance collection. 

Sample sets are available in 10 ml fragrance oils, 2 oz fragrance sprays, or breakaway melts. 

Each sample set is priced to get one item free!

Sample sets are not available to mix and match. 

Sample sets are offered at a discounted price with the intention of helping you to test the product before purchasing a full size. They are not eligible for returns.
New Resorts - Have you noticed a special change at your favorite resort? This set includes Boardwalk Bliss, Coconut Calypso, Riviera Reverie, Victorian Splendor and Walt's Wonderful World for you to compare.
Magical Memories includes Polynesian Paradise, Safari Scentsation (Sandalwood and Vanilla), Very Vero (Orange Blossom), Walt's Wonderful World (Green Clover and Aloe), and Wilderness Wonderland. 
Floral Faves includes Glass Slipper (Gardenia) Lily of the Valley, Nectar of the Gods (Honeysuckle and Jasmine), Orange Blossom, and Sunshine (Citrus and Sugar).

Fun in the Sun includes Beach Bum (Coppertone), Citrus Smile (Orange and Vanilla), Coconut Calypso (Coconut and Vanilla), Soarin Over the Sea (Ocean Breeze), and Sunshine (Citrus and Sugar). 
Gourmand Greats includes Almond Chocolate Biscotti, Amaretto Kiss (Cherry and Almond), Just Married (Vanilla and Buttercream),  Pumpkin Buttercream and Vanilla Bourbon. 
The Manly Man includes Caribbean Teakwood, Deadwood (Whiskey and Leather), Dude Ranch (Leather), Gatsby (Vanilla Tobacco), and Man in Black (Blackberry and Anise).
Outdoors Fun includes Almost Heaven (Lavender and Pine), Apples and Oak, Beach Bum, Christmas Tree, and Merry Mickey (Juniper, Frankincense, Balsam and Bergamot). 
Zen Heaven includes Castle Dreams (White Eucalyptus), Day at the Spa (Rosemary and Mint), Hippy Mickey (Orange and Patchouli), The Magi (Frankincense and Myrrh), and Mystic Woods (Palo Santo). 
Share
View full details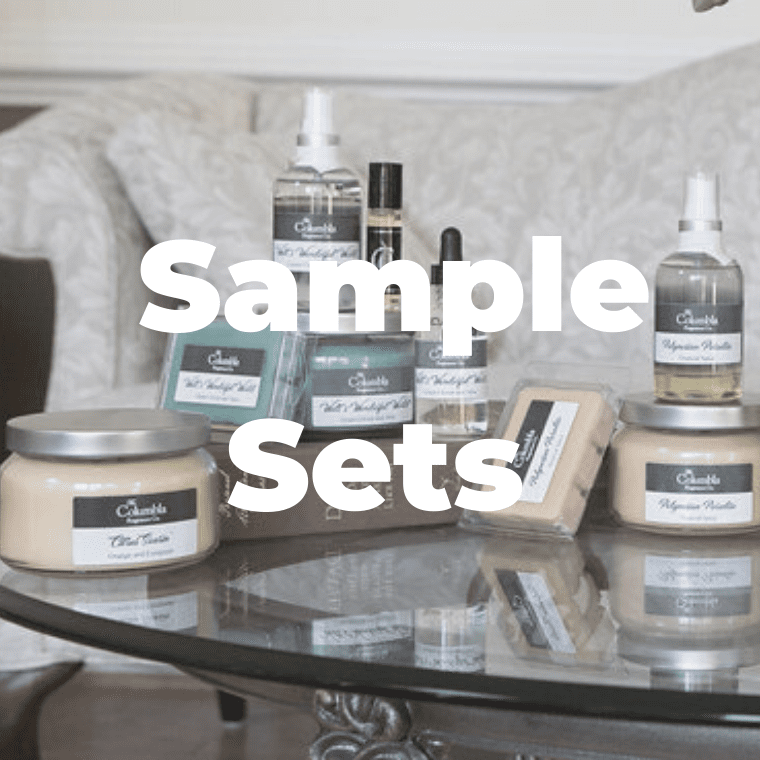 Amazing scents
I've kinda been "in my smells" lately so I've been ordering sample sets from different vendors places and brands to try out and The Columbia Fragrance Co hands down has the best scents!! I ordered the sample set of room sprays to try and I absolutely love Walt's Wonderful World and Boardwalk Bliss!! These scents last far longer than anything I've ever used before. I've found my love scents and so excited to get my full order of everything Walt's Wonderful World. I wish this smell came in a perfume it's so clean and fresh I want to bathe in it!
Great scents
This is a great way to sample multiple scents. The sample size is great as you get enough of each for multiple uses so you get a complete experience of scents
So good!
These oils are magical 🌟 My experiences ordering oils online before have been hit or miss at best but the option to order the sample packs was so helpful! The samples themselves are actually the same size as what other companies offer as full size and WOW what a great deal! I am in love with the Sunshine scent ❤️
Collapsible content
Additional Information

Our 10 oz candles are a custom blend of paraffin and soy waxes. Paraffin holds the strong colors and scents you enjoy, and soy is more eco-friendly to our environment.

Use an electric mist diffuser? Our diffuser fragrance oils, available in 2 oz and 4 oz sizes, are compatible with most small appliances.

Use our 4 oz fragrance sprays for a quick fragrance boost.

Our soaps are perfect for cleaniing up with your favorite scent!
About Our Candles

Our candles are a custom blend of paraffin and soy waxes. Paraffin is used to hold the strong colors you see and scents you smell. Soy is used to create a product more eco-friendly to our environment. Together, a quality product is created and tested to be the best possible for you and your home. Our candles are double wicked, to provide a larger melt pool. All wicks are lead free, and all fragrance oils are phthalate free. When burned properly, each candle will burn up to 45 hours. 
Other Products

All fragrance oils are phthalate and paraben free.
Ingredients in our fragrance spray include phthalate free fragrance oil, witch hazel, and distilled water. 
Our 2 oz diffuser oil refills come with five rattan reeds. 
Frequently Asked Questions

What is your turnaround time? As a small batch maker, most products are hand poured at the time of order, and our standard turnaround time is seven days, and many orders ship much sooner. We do offer Jump to the Front of the Line processing for those needing an order sooner. 
Why is shipping so expensive? Cost for shipping is determined by the USPS. Factors for shipping cost include weight of the order (unfortunately, candles are very heavy) and distance between our facility and the shipping address. Most orders arrive between two to three days between when they are shipped from our offices and when they are received.
More answers to many of your questions can be found on our FAQ page.